This is the translation of the text below, "Feministinnen* kennen kein "Vater"land!", as the question arose whether it was possible to translate the text into English in order to make it more accessible – and then it should be on the blog, too.
This year [now last year], parts of mainstream feminism have discovered the topic of refugee women. The October edition of the magazine 'Emma' therefore includes a "gender-specific catalogue of demands" where Emma says what has to "HAPPEN NOW."
At first glance, the demands seem at least not to do any harm, even though all those who have been fighting together with refugee women* for an improvement of their situation will miss many demands – the demand that the degrading Asylum Seekers Benefits Act (Asylbewerberleistungsgesetz) be abolished, for example, or the demand for private housing and that collective accommodation, i.e. Lagers, be abolished. This means, the steps that refugee women* themselves have long been demanding for their protection are lacking. And, above all, the demands regarding the asylum procedure are rather lacking in content, so that one cannot help asking oneself the question whether it is really Emma's aim to improve the situation of asylum-seeking women.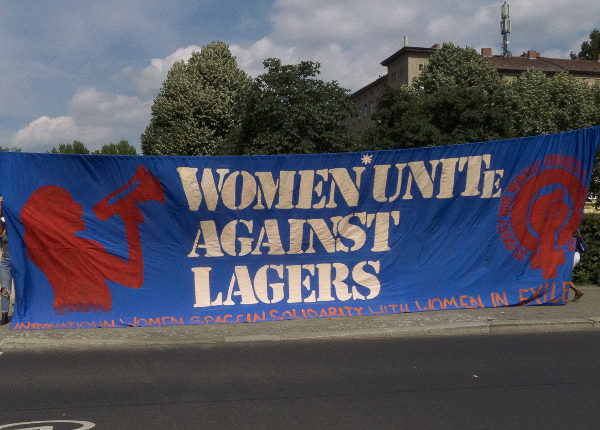 It is only at second glance that it becomes more obvious what the actual intention behind these alarmist demands is: It is, in fact, a matter of focusing on asylum-seeking men* as perpetrators. As we learn elsewhere in the same edition of Emma: "Because, after all, one thing is clear: Many of the predominantly young men who now come to us have so far never experienced even the slightest hint of gender equality. They come from cultures such as Islam where women are regarded as inferior (..). They are predominantly Arabs where, independently of beliefs, the women's rights situation is traditionally poor. And they come from (civil) war zones where they were victims or perpetrators, and many a time also both at the same time."
So they must now be cracked down on massively. "Perpetrators must be vigorously persecuted, even if they are simultaneously victims." And how this can be brought about – this is also considered by Emma: "The question arises whether such violations (assaults on women and children and violations of our laws) might also be a reason for rejection of an asylum application."
So this is now the tightening of asylum legislation in the style of the Emma magazine – well placed within the current discourse which is undermining the individual right to asylum by arbitrarily defining more and more supposedly "safe countries of origin" and depriving asylum seekers of their fundamental rights based on forecasts regarding the outcome of asylum procedures.
Of course, anti-Muslim racist statements by Alice Schwarzer (Emma's chief editor) are nothing new. In January 2015 she declared that she shared the "justified unease" of a "vast majority" of the population who were said to fully or partially agree with the so-called Pegida movement. In January, however, she still stated, "98% of all refugees who come to Europe today – if they haven't already drowned on their way here – are likely to have been victims of Islamists". Whether asylum seekers are perceived as victims or perpetrators – this seems, therefore, rather to depend on the latest public discourse than on the asylum seekers' real reasons to flee.
Thus, Emma's recent statements concerning the "protection of refugee women" simply reveal themselves as what we have come used to from this side – as nationalist propaganda. Violence against women is (once again) being used to justify migration controls.
This is something we are already familiar with.
Migrant women in Germany have long and often been presented as victims – "forced to wear veils", "forced into marriage", locked up in a "parallel society" – or as victims of "forced prostitution" or human trafficking. A supposedly "alien patriarchal culture" is depicted which often seems to be totally different from the so-called "western democratic culture" where women are said to be equal. A culture which "we" don't want here. The representatives of this "alien culture" change, sometimes they are "Eastern European pimps", sometimes "Turkish fathers", sometimes "Arab Islamists" – the alleged perpetrators are, as a rule, men with an immigrant background.
And no matter what f-word is used as a reason – in most cases governmental control measures are presented as protective measures for women's rights. And even expulsion and denial of residence are interpreted as protection of women: Women are said to be better off "at home".
For example in the Residence Act: Since 2007, subsequent immigration of family members is expressly excluded in the case of alleged "fake marriages", in order to "prevent the misuse of a right of residence, in particular for illegal purposes such as forced prostitution" (reasons for the amendment of the Act, p. 3).
Since then, foreigners authorities and register offices have been putting considerable effort into distinguishing so-called "fake" marriages from, in the opinion of the authorities, "real" marriages. It is made clear to migrants by a list of questions which, in the case of suspicion, prospective spouses have to answer in separate interviews, what a good German marriage has to look like: Couples where the wife is older, couples who haven't known each other long or who get divorced after a "short time" are suspicious. And also those who don't spend every night together, who are indifferent to each other's relatives and therefore don't know all the names, who don't care about what their partner eats, who don't pay much attention to their partner's clothing, who don't want children, who don't live monogamous and (of course) those who are sex workers are suspicious.
In order to prevent so-called fake marriages, even the period of time a couple must live together so that the non-German spouse or partner can get an independent right of residence was extended.
And since autumn 2007, the subsequent immigration of spouses from almost all non-EU countries requires evidence of German language skills. The adoption of these provisions was justified by the spectre of forced marriages haunting Germany – and thus by the image often depicted of migrant women as victims. In the meantime, due to court decisions, the law had to be brought into line with applicable EU legislation and relaxed, e.g. for migrants from Turkey, but it is still a big hurdle for many immigrants.
According to the reasons given for this law it was intended to prevent so-called "forced marriages". We believe there are other motives behind it: The intention was mainly to make it more difficult for people having no or hardly any formal education to come to Germany. As the German education system has difficulties to develop and implement sustainable concepts of bilingual education, mothers are required to be able to make up for the shortfalls of the school system by tutoring their children at home and assisting them with their homework.
So it is really about care work or about using residence legislation as a means to control by whom and how children are educated in Germany. That way existing and purely German social inequalities and patriarchal structures are veiled. And the functioning in these patriarchal family models is even passed off as emancipation to migrant mothers.
Using the same patterns of culturalisation and ethnicisation of violence, opponents of prostitution claim the sexual services sector in general is a place of violence against women. Germany and the Germans are conspicuously often referred to when opponents of prostitution talk about sex work.
At present, the Federal Government wants to introduce a new law to regulate prostitution which is to be called "Prostitutes Protection Act" (Prostituiertenschutzgesetz). Sex workers call for protests against the planned legislation and numerous reports and opinions of specialist associations and experts show that the Act's name masks the real intentions behind the draft law: The planned measures are intended to control sex workers, to patronise them, to restrict their fundamental rights and, if they refuse to accept this, to criminalise them.
These things don't happen accidentally or unintentionally. Patriarchal family models and the exploitation of women as unpaid care workers are at the core of the nation state: "Marriage and the family shall enjoy the special protection of the state" (Article 6 of the Basic Law for the Federal Republic of Germany).
Of course, stricter immigration laws don't protect female migrants and the Prostitutes "Protection" Act doesn't protect sex workers. The intention is rather to protect the image of a supposedly perfect world of nuclear families with good German mothers and fathers. Purportedly feminist demands to protect women that draw on these patterns of culturalisation and ethnicisation of violence perpetuate such ideas.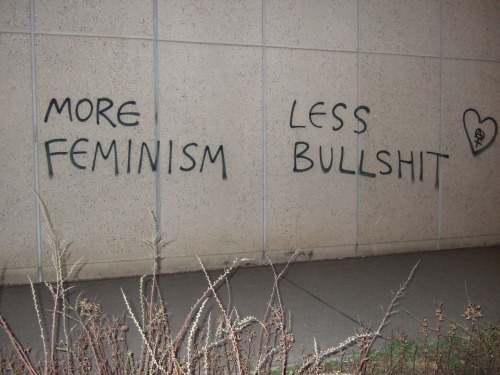 Even though their situations seem to be quite different, migrant women*, refugee women* and sex workers are all fighting for the right to live a self-determined life – but instead they get governmental "protective" measures. They themselves are neither asked nor heard.
The Federal Minister for Family Affairs, Manuela Schwesig, has recently presented a concept for the protection of women and children in accommodation for refugees. One of the planned steps: investment loans with a total volume of up to EUR 200 million for the construction of new collective facilities. This is, according to Women in Exile, a self-organisation of refugee women*, "downright absurd", and undermines long-standing demands to be accommodated in flats.
To treat other women* like immature children, to humiliate them or to subject them to repressive measures in order to "save" them is no feminism! Solidarity with migrant women*, refugee women* and sex workers* who fight for freedom of movement, for the right to stay and for self-determined lives! Feminists know no "father"land!